PlanGuru Users,
While the QuickBooks Import interface is simple and easy to use, there are some basic requirements that need to be met.
PlanGuru and QuickBooks must be running on the same machine.
Whether you're running PlanGuru from your local machine (Machine License), or on a shared network server (Network Edition) both application need to be running on the same physical machine for the interface to work. So, if PlanGuru is running off a server, QuickBooks must be installed on that same server.
One important item to note is that just because your QuickBooks files are stored on your local machine (or server) doesn't mean that the application is running from the same location.
The best way to confirm where your applications are running from is to right click on the executable file you use to launch the application (aka your desktop shortcut), and select the "Properties" menu option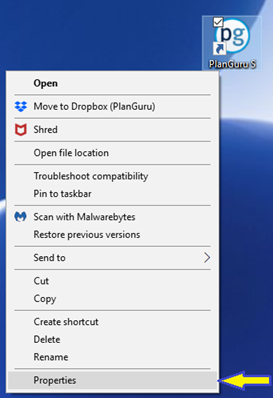 With the properties menu open to the "Shortcut" tab, look at the "Start in" value. This tells you where Windows is running the application from. In this instance both applications are running off my local C:/ drive. This is good, as it confirms that both applications are running off the same machine.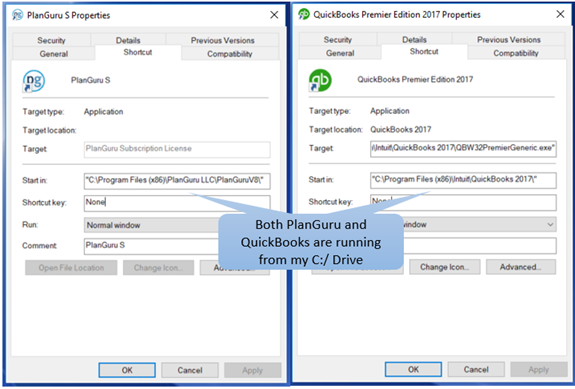 You must Log-in to QuickBooks with Administrative Privileges to accept the security certificate.
Because PlanGuru will be extracting data, QuickBooks requires that you accept a security certificate that grants permission for the two applications to communicate. This certificate will show up the first time you try using the interface. After selecting the "QuickBooks" radio button from the Import Options dialog PlanGuru will send a request to QuickBooks. You must open QuickBooks and accept the certificate. I suggest you select the last option "Yes, always; allow access..."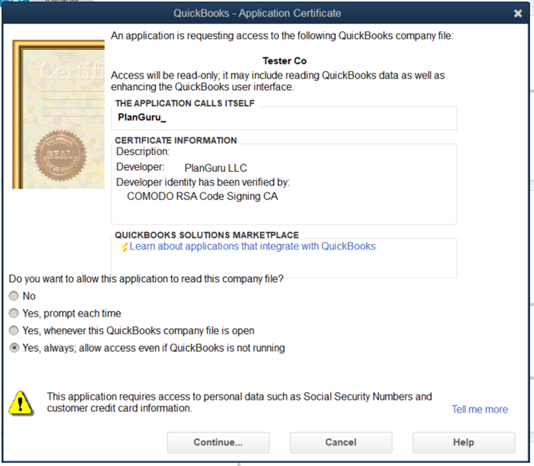 QuickBooks must be open to the company you want to import from.
In order for PlanGuru to pull in data from QuickBooks, the application must be open to the company you want to import from.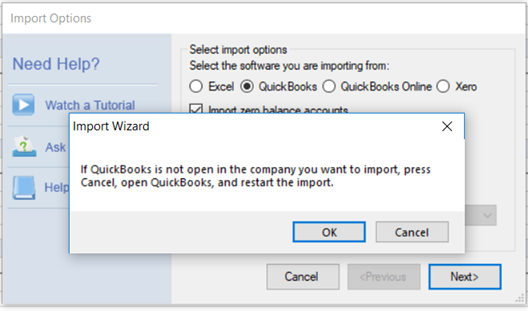 If QuickBooks in not open when this import option is selected the following dialog appears.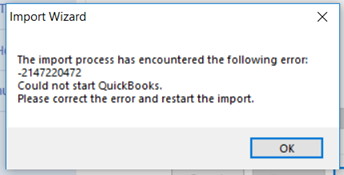 Make sure PlanGuru is not being run 'As an Administrator'
PlanGuru cannot be running with the 'Run as Administrator' option checked. Confirm this setting by right clicking on the PlanGuru shortcut and selecting 'Properties' from the menu, next navigate to the 'Compatibility' tab.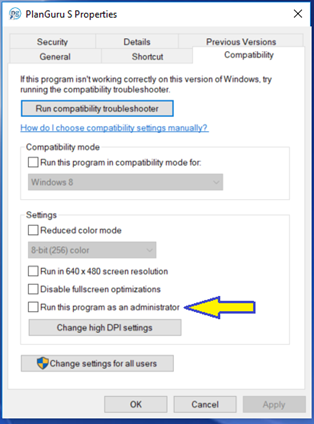 You cannot be running the QuickBooks Simple Start Version.
Certain versions of QuickBooks don't support interfacing with external applications, this includes the QuickBooks Simple Start Edition.