QuickBooks Import Options
Import Options window: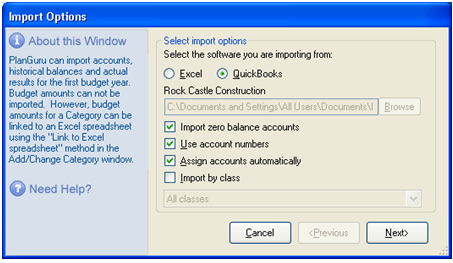 Import zero balance accounts - We generally recommend leaving this check-box checked. If zero balance accounts are not imported during the initial import, they will not automatically be imported during a subsequent import if they have balances in the subsequent period.
Use account numbers - Loads your QuickBooks account numbers into PlanGuru. Please note that this option is only available when you PlanGuru Company is configured to use account numbers.
Assign accounts automatically - This option is only available the first time you import information for this analysis. If you check this check box, PlanGuru uses your QuickBooks "Account Type" field to determine where accounts are imported into PlanGuru. Using the automatic account assignment will significantly reduce set up time.
Import by class - If you are using QuickBooks classes to designate departments or divisions you can use this option to select the QuickBooks class you want to import information from. Under this approach each QuickBooks class would be used to create an individual analysis in PlanGuru. You could then use the consolidation functionality in PlanGuru to roll each individual, class level analysis, into a company-wide total.
It's important to note that if you use this feature you cannot select the "All classes" option from the drop-down list. This value is meant to be a place holder only, selecting the "All Classes" option would be the same as not using the Import by class functionality, and thus we do not allow it.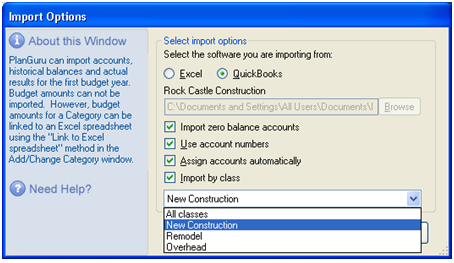 Sub account options - PlanGuru gives you options on how it handles QuickBooks sub accounts. Select the method you want to use. This option is only available during the first import; the choice selected here will apply to all subsequent imports.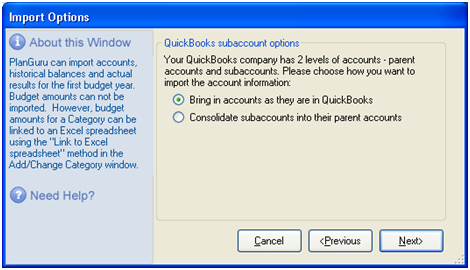 By selecting "Bring in accounts as they are in QuickBooks, sub accounts will total to balance of the parent account, and the parent account will be imported with a zero balance.

By selecting "Consolidate sub accounts into their parent accounts" only the parent account will be imported with a value equal to the sum of all sub accounts. Child accounts will not be imported.

-PlanGuru Support