Printing - Crystal Reports File Error
When printing reports if you receive one of the following error messages it means your Crystal Reports driver (which should get created during installation of PlanGuru) didn't get installed correctly.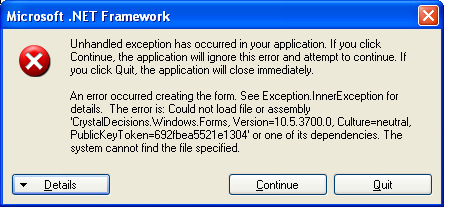 This is atypical, but nothing to be alarmed about, and the resolution is simple. Download and install the following Crystal Reports add-in file:
https://www.planguru.com/ftpupdates/CRRuntime_32bit_13_0_18.msi
(IF you're running Mozilla Firefox as your web browser the previous URL might not work, the installer file is also attached below)
For the network edition, the file should be installed on the workstation where they can not print reports.